Due to the increasing cases of COVID -19, nutrition and lifestyle modification is the need of the hour. The measure is to reduce the spread of the viruses by diet and proper nourishment by healthy food as much as possible.
Diet Chart For COVID-19 Patients In India 
People suffering from covid-19 and are quarantined or hospitalized have to specially take care of their immunity and have to eat a balanced diet that they can get from healthy food groups. It is said that immunity gets weak due to the lack of nutrients on a person's plate on a daily basis. Having a balance of macro & micronutrients can boost immunity and can help to recover faster.
Following are some tips that you can include in your daily routine to ward off the covid-19 symptoms and to eliminate the virus from the body.
Hydration
Hydration plays a vital key role that helps to flush out toxins so it is important to take this natural immunity liquid first thing in the morning or a 2-hour gap during the day.
Having warm lemon water, aloe vera juice, amla juice, giloy juice, turmeric water, ginger tea, green juice, turmeric milk, basil seeds water, lemongrass water, etc can amp up your
hydration level with an added benefits of these functional foods.
Grains
Grains like wheat, rice, millets, broken wheat or daliya, barley, buckwheat, sabudana can be consumed as they are rich & complex sources of carbohydrates. These help in giving out good amount of energy for the body's internal functioning while fighting covid-19.
Pulses and Legumes
Pulses and legumes like peas, green moong, masoor dal, toor dal, rajma, chickpeas, etc are loaded with good amount of proteins. Make sure to add 1 portion of protein to each meal you eat to keep the hormonal balance in place. Proteins also ensure muscle recovery & restoration to avoid muscle loss & weight loss during covid-19.
Fresh Fruits
Fresh fruits – Having at least two or three serving will restore the enzymes which help in detoxifying your cells. Vitamin C-rich fruits like orange, papaya, kiwi, apples, amla are a must to lower the rate of infection in the body. Include seasonal fruits daily.
Seasonal Vegetables
300 gm of seasonal vegetables are a must to acquire nutrients like magnesium, potassium, calcium & Iron. These vital nutrients play a key role in supporting your immune system and keeps your brain calm.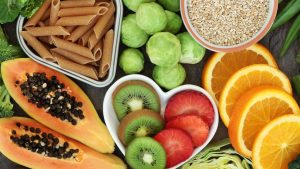 Daily Meals
Your daily meals should be energy-dense by indulging in healthy fats like ghee, olive oil, groundnut oil, nuts, oilseeds, avocados, etc. These also consist of Vitamin E that works as an anti-oxidant & fights inflammation in the body.
Probiotics
Probiotics are necessary during the recovery. Add enough sources like buttermilk, curd, yakult, sauerkraut, kombucha etc. These level up your gut health and increases the good bacteria population that helps boost immunity.
Vitamin D
Vitamin D is one of the important vitamins that builds our immunity. Vitamin D deficiency can increase the chances of COVID -19. Face the sunlight daily and consume good sources such as eggs, soybean, mushrooms, sesame seeds, rajgira, walnuts, lentils, and pulses.
Zinc
Zinc is an essential mineral required for our immunity as it works at the cellular level to fight viral & other microbial infections. consuming seeds like sesame seeds, pumpkin seeds, hemp seeds daily can decrease your chances for infections. More sources of zinc are almonds, peanuts, lentils & chickpeas.
Indian Spices
Include Indian spices like ginger, turmeric, garlic, cloves, cinnamon, black pepper, kali jeeri, ajwain, etc as they are natural immunity boosters in your food. They are often called as functional foods as they hold special properties of healing with minimal usage.
Mental Peace
Last but not the least, to attain mental peace in the pandemic chaos is most important to acquire holistic wellness & health.
Apart from health & nutrition perspective, we all should follow social distancing, we should always keep our masks on and should avoid stepping out unnecessarily.